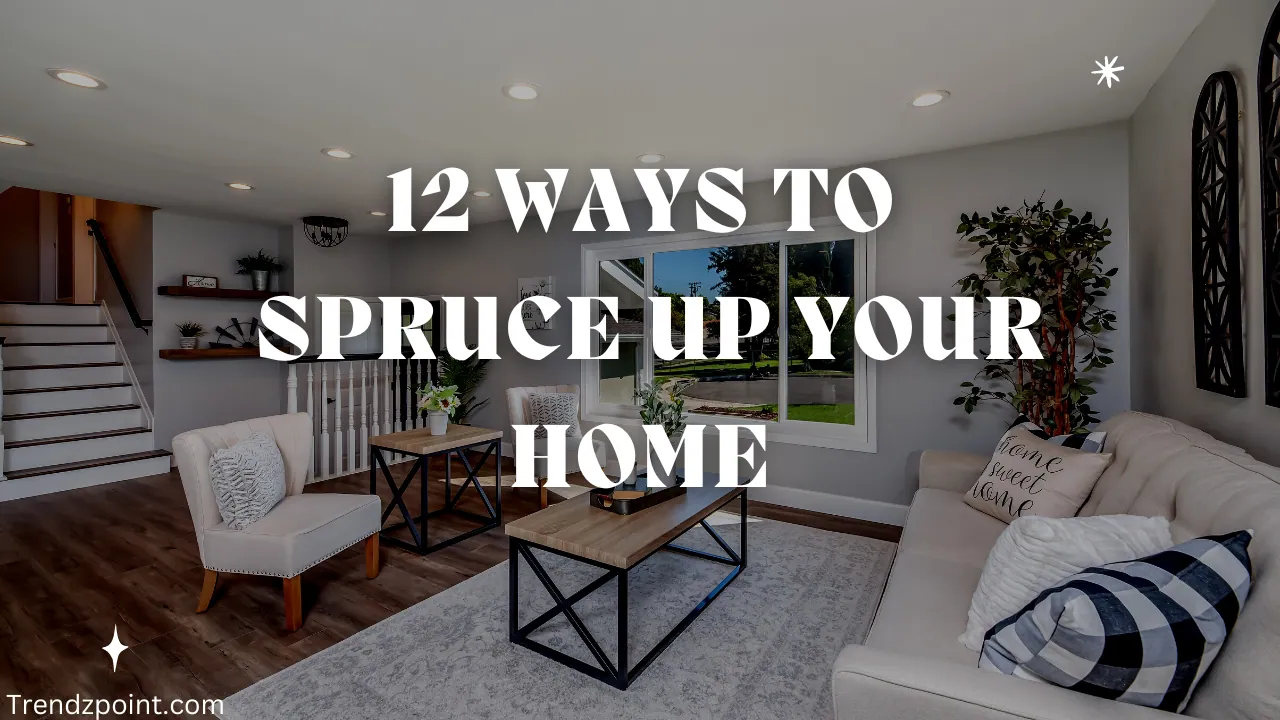 Your home is the place for you to relax after a hectic and exhausting day. But if your home is not at all organized then it can be stressful for you according to the research. No matter where you live, cleaning and organizing your home is essential for comfort. If you are looking to find ideas to spruce up your home without breaking the bank then this article can help you a lot.
Declutter
When starting to spruce up your home, decluttering is the first step. Even if you have a well-designed house, clutter here and there can make it look messy and untidy.
You may already know that clutter can negatively affect your brain and creates anxiety and stress, affect your sleep and cause an inability to focus on your work. That means that if you're living in a messy home, then you are damaging your mental health.
Spending a few minutes daily to declutter your home is enough and can make your home organized and improve your mental health. Remove all the knick-knacks and furniture, then add the items one by one according to your choice.
Rearrange Living Room
If your living room is boring, you should rearrange your furniture. Arrange the furniture according to your needs keeping in view the angle of the sofa and chairs and the optimal TV view.
Statement/Feature Wall
A feature wall is one whose design differs from other walls in the room. A feature wall can make a significant change very quickly and easily.
The easiest way to create a feature wall is by using paint. Choose an assertive color that contrasts the color used on other walls of the room. Avoid choosing a wall with a door, windows, or fireplace.
You can also use tape to create stripes or specific patterns if you want more than just a single color to make your creative statement.
You can also use wallpapers if you wish to change the design frequently.
Place A Rug
Rugs have a special ability to add warmth and definition to the spaces they're in. So, if you're looking to redefine your space, there's no better way to do it than with a new area rug.
Rugs are a good idea to define your space and add warmth to the room they are in. Get a new rug to redefine your space.
Colors and patterns are important when buying a new rug. But its placement also plays an important role. Many people prefer diagonal placement to enhance visibility.
Rehabilitate Your Kitchen
First of all, declutter your kitchen, and remove older and broken devices and kitchenware.
Look for wear and tear and accessories that need replacement. Kitchen sinks mostly show wear and tear with age. They fade or lose their luster with time. Change your sink with the popular 1.5-bowl stainless steel sink.
Taps leak with age and need replacement as well. If your tap needs replacement swap it with the modern pull-out tap hose as they are attractive and useful.
You can also paint your kitchen cabinets and install new wallpaper to revamp your kitchen on a budget.
Create Your Own Artwork
A statement wall is not the only way you can renovate your walls, a simple and easy way is to create DIY art for your living room.
Large or multiple small artworks can make your wall different and attractive. You can use a blank canvas and make your own art or order some abstract wall art.
Change Your Window Curtains
Change your window curtains with new and exciting designs. This will significantly spruce up your home.
There are many types of curtains and window blinders you can buy cheaply.
Install New Lights
You may have dull and boring lights in your home. Installing new lights is not that expensive and you don't need to think for hours.
Buy some new lamps for your side tables, that are useful and attractive at the same time and will add a decorative element to your room.
Ceiling Medallion
You may be surprised to know that ceiling medallions are still quite popular. They don't cost too much and add a focal point and flair to the lights.
There are many traditional and modern designs of ceiling medallions and you can also create DIY yourself if you do a little research.
Add Fresh Flowers
Flowers not only elevate your mood but also liven up your home. If you have a small garden outside your home, you surely have flowers there. Bring some natural beauty inside your home.
Bring some flowers for your side table, dining table, and bathroom countertops. You can also place some indoor plants.
Add Antique
A lovely antique piece is the finest way to scent a space with experience and history. Items from big box stores just cannot reproduce the patina of antique articles. Finding anything that seems to have been bought at a Paris flea market won't cost you wealth.
Small articles can also perform well, but larger additions like lamps, mirrors, and furniture are excellent. Antique picture frames, sculptural wall sconces, or crates from another age may all deliver a certain "je ne sais quoi" to a room that makes it appear more pricey than it was.
Change Your Bedding
The bed is the focal point of your bedroom and without investing in a bed you can't spruce up your home. Get a new duvet cover, sheets, quilt, or accent according to your choice.
Final Words
So there you have it. I have given you 12 easy ways to spruce up your home cheaply. If you have a passion for freshening your home, take a little time daily and spruce up your home, you will love it and will continue to do further.
If you like this article share it with your friends and follow us on social media.